Metal fabrication quality control
Knox Engineering, Sydney, is able to fabricate steel and aluminium to the very highest quality. Including to Australian structural fabrication standards. Knox has put the systems in place to maintain consistency and quality, even at high volume.
---
Metal fabrication quality control is ongoing. Regardless of job, status or title within the company, every Knox employee endeavours to ensure that:
Customer requirements are understood
Product quality is consistent
Goods are delivered on time, every time
Goods are fabricated correctly – the first time
All communications are clear and efective
The whole business participates in continuous improvement
Decisions are based, wherever possible, on facts and data
To help achieve these aims, Knox maintains an in-house metal fabrication quality control system, certified to ISO 9001. The Knox Quality System is monitored, and regularly audited, by SAI Global Limited.
Knox Engineering has the capability, vision and control processes in place to ensure the very highest quality of metal fabrication. This utter dedication to quality and detail underpins everything that we produce.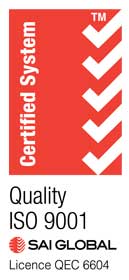 Knox Engineering are Sydney's premier metal fabricators, renowned for detail and precision, backed by a reputation forged over decades.
Precision metal fabrication with strict quality control.
Our name has been trusted for more than 60 years.
Efficient and streamlined, we always deliver on time.
We have capacity to handle any project big or small.